---
King of the Dot founder and former battle rapper Organik recently launched a brand new cannabis product line that goes by the name of Ghost Drops which is currently available in select cannabis dispensaries across Canada with more soon to be added. The new brand recently had a special launch event last week at a cannabis dispensary shop in Pickering, Ontario called Pop's Cannabis. I was personally lucky enough to be in attendance for the launch living in close proximity to the cannabis shop it was only natural that I would stop by . Being a photographer I was able to capture some photos and video footage to document the occasion. Organik and the rest of his team made an appearance at the event to greet the new customers that would come by to try out the new Ghost Drops products.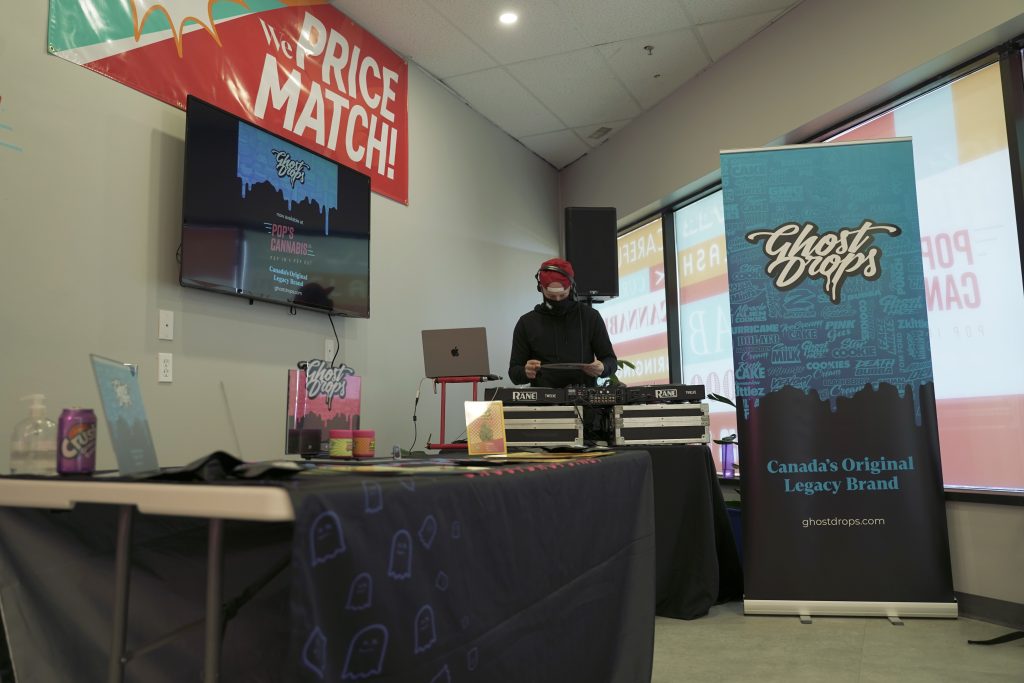 Along with the Ghost Drops team in attendance , a full DJ was on site to provide a party like atmosphere to Pop's Cannabis shop to greet the customer's as they came and went. Multiple large vibrant signs were set up through out the store displaying the unique Ghost Drops logo along with the really cool neon wire light stand in the shape of the GD logo which can been seen in more detail in the Ghost Drops promo video at the bottom of this article. A table was set up with information pamphlets and other documentation which explained the various strains which Ghost Drops currently had available for purchase. We picked up some of the "Z Splitter" strain which is labeled as a hybrid plant type with a THC percentage of 25 to 29%. These buds were very nice looking with a distinctive smell that wasn't too over powering which left us with a very pleasant feeling after smoking with little to no side effects such as drowsiness or fatigue. The purchase also came with a goodie bag with some decal stickers, neck key chain, a pen and a cell phone handle which is a nice touch to add to the purchases.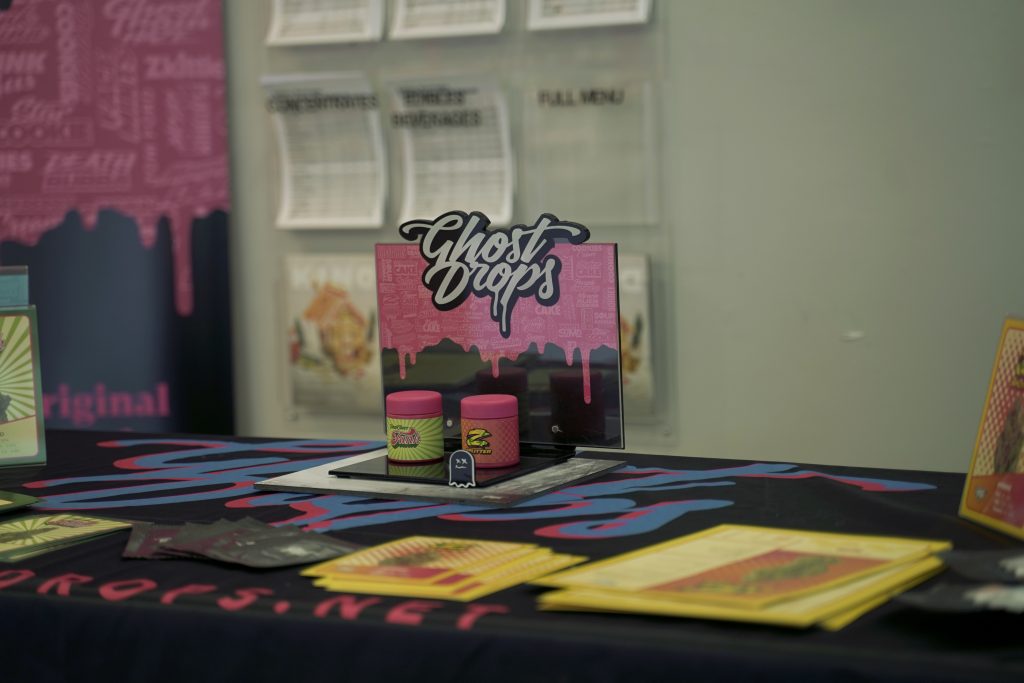 It will be interesting to see how this new brand's aggressive marketing campaign does in the coming months on the cannabis market as there is potential for future cross promotion between King of the Dot and Ghost Drops which should give the company a unique edge when competing with other cannabis brands on the Canadian market. So far, Ghost Drops has been successful by putting forth a trendy and urban image which will undoubtedly tap in to the hip-hop/music market as we can expect to see rappers promoting the product off their respective social media accounts. Ghost Drops continues to look for new shops and dispensaries to pick up the product for sale so be sure to check out the official Ghost Drops website at www.ghostdrops.com which will contain all information and FAQs that you are looking for and check out the official Ghost Drops Instagram account @ghostdropsofficial.
Our website Musik Mirage has produced an exclusive promotional video which was filmed at Pop's Cannabis shop in Pickering during the day of the official Ghost Drops launch. The photos and video was produced by the founder and editor of Musik Mirage Kyle McNeil who was present at the event. The video features the music of rap duo the 420 Klick and their track "Pink Strains" so check it out below on YouTube!
---
Article and Photos By Kyle McNeil(@trueaspectmedia)