---
As flashing lights cover the stage like the flash from hundreds of cameras, The Blue Stones step through the jarring distortion and out in front of the crowd. We all watched as lead singer Tarek Jafar and drummer Justin Tessier take their respective places. Jafar at the mic with his guitar and Tessier at his drum set, sticks in hand. With the Pretty Monster tour well on its way, the duo has already sold-out numerous shows. Their latest album of the same name is carrying the band's signature sound through venues across Canada. A sturdy blues foundation with a strong alt rock sound is The Blue Stones brand. The band would select their song "Healing" to open up their sold-out concert at The Studio in Hamilton, Ontario.
The pair found their footing in front of the already eager audience donning their new Blue Stones band merch. As the show rolls on, you feel the crowd bouncing off each other to the rhythm of tracks like "Grim" and "LA Afterlife". The pair would deliver moodier songs like "Oceans" but the pair would refuse to let the energy drop a single notch. With a balance of their well-loved classics and new hits like "What's it Take to be Happy", "Don't Miss" and "One By One" there was definitely something for every fan in attendance. The lead vocalist Tarek Jafar made use of the full stage as he stomped his guitar back and forth towards his band-mate on percussion. With three album releases in total, we are starting to see The Blue Stones begin to firmly plant their feet in the music business.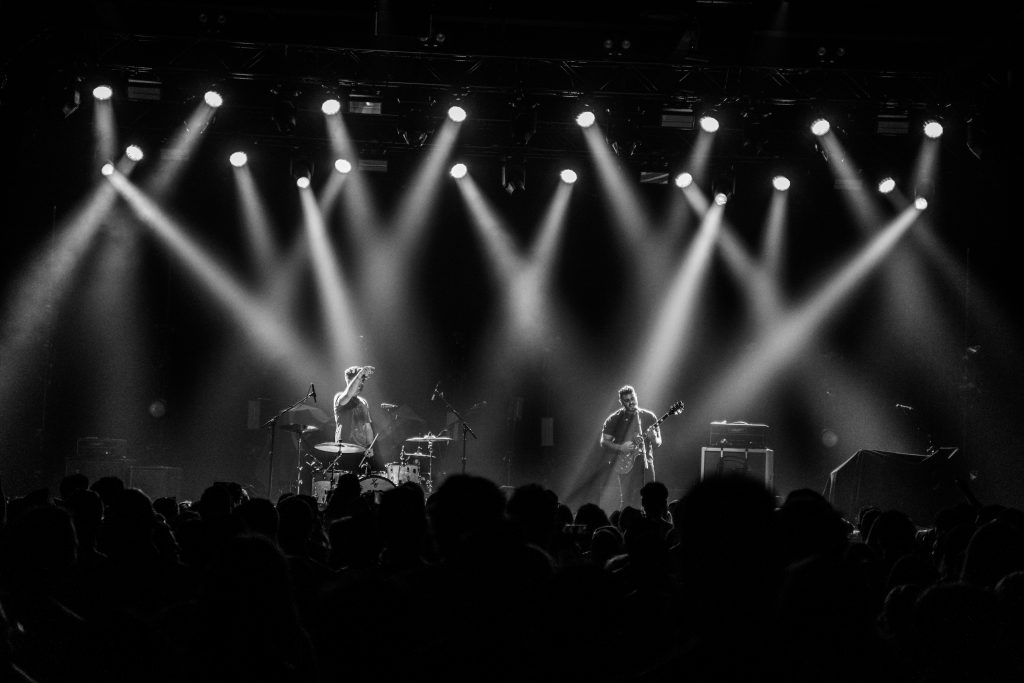 The musical duo has previously toured with artists like Grandson, The Beaches and many other notable acts before embarking on this year's headlining tour. Actually, frequent Musik Mirage readers might recall our concert review from back in August which featured The Beaches playing their album release show in Toronto which saw The Blue Stones open on both nights. The previous concert review article + photos can be viewed here. Back in 2013 they played their very first show and have come a long way since. After leaving the stage and coming back for the obligatory encore, the pair ripped through fan favourites and saved arguably one of the best for last. "Shaking Off the Rust" invoked a surge of energy that burst through the crowd. The floor vibrated as everyone jumped through the chorus. The whole show was over in a flash-exactly how it started.
Be sure to listen to The Blue Stones latest project from 2022 titled "Pretty Monster" which is available on all major streaming platforms. We have provided the Spotify link just below. Also, follow The Blue Stones on social media platforms like Instagram @TheBlueStones.
---
Article & Photos By Octavia Allison(@octavia.radio)